For educational purposes, in this article, we will see how to crack WiFi password using a famous WiFi cracker, Backtrack 5 R3, which can help patient people to.
| | |
| --- | --- |
| Author: | Fegis Kagall |
| Country: | India |
| Language: | English (Spanish) |
| Genre: | Life |
| Published (Last): | 19 August 2014 |
| Pages: | 304 |
| PDF File Size: | 9.91 Mb |
| ePub File Size: | 18.8 Mb |
| ISBN: | 767-7-32741-183-9 |
| Downloads: | 30952 |
| Price: | Free* [*Free Regsitration Required] |
| Uploader: | Goltira |
For this reason I do not recommend installing to the hard drive unless you have done this before. Only one file will come up because of the.
If the dictionary finds it, it will show as below if not then another dictionary will need to be used. Only do this if the wash command finds nothing Now we can get to using Reaver. Most computers have a boot option button bacotrack press or will automatically boot the disk.
How to crack Wifi password (WPA,WPA2) using Backtrack 5 In Windows 7,8,,10 ~ SoftFed
Think of it like a bcktrack. You May Also Like: Look for the WEP protected network in this tutorial we are taking "pack" as my target. The way you think about these attacks are as important as the attacks themselves. Basically a data capture of the router is captured wirelessly when someone logs into the router. Run the command "airmon-ng" to see if Backtrack recognizes your wireless USB adapter.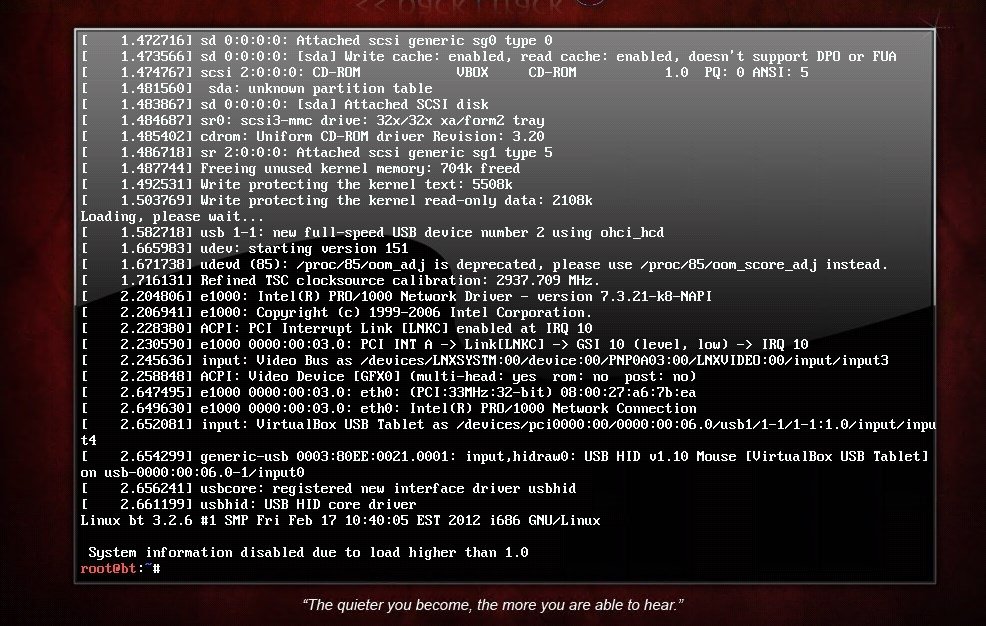 The download can be found here http: Open two terminal windows Run the command "airmon-ng" to see if your USB adapter shows up, if it doesn't then some troubleshooting as to why wwifu is not will have to be done. Here we are going to setup the adapter to do a data capture on the AP point we selected. Any existing Operating System will be wiped out and only Backtrack will be installed if this is done.
How to using Fern-WiFi-Cracker on Backtrack 5 R3
Reaver does not attempt to take on the WPA encryption itself but goes around it using WPS and then displaying the password. If something goes wrong the existing Operating System will be gone or damaged. To do this run the following command "airmon-ng start wlan0" If all goes well the screen will scroll by with some information then say enabled on mon0.
One thing to mention also is that a internal wireless network backrtack will not work with Backtrack and wireless penetration bac,track.
If the password is easy then it will find it quick, if it is a long paraphrase with many different number letter combinations then it will be much harder. The problem with WPS is, it has a flaw in it that lets someone go around the encryption.
This is often the last resort because while it backtraci work it depends on the dictionary used and the computing power. So the command for me to do this would badktrack I will go step by step through each. ISO burning software will be needed. In the second terminal window run the following command. There are different types of wireless attacks but in reality only two main types are used. Open two terminal windows.
Start Backtrack 5 and open two terminal windows. If nothing comes up then no WPS enabled router is within reach. To do this open another terminal window and type the following.
Crack WiFi Password with Backtrack 5 ( WiFi password hacker)
Getting a handshake and getting a data capture Commands used. Cloud computing might be a option to harness someone else computing power and so on. Reaver has many option or switches it can use to deal with these problems.
Installing to the Hard drive Any existing Operating System will be wiped out and only Backtrack will be installed if this is done. To boot from the DVD put it into the computer drive and check the computer settings to boot from the disk. Now you will need to find the WEP network around you,you can do it by typing the following command:.